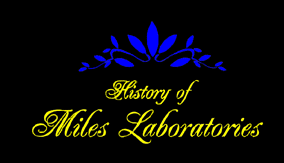 When Dr. Franklin Miles moved his office from Chicago to Elkhart, Indiana in 1875, he brought with him his experience in the practice of medicine and his innate curiosity. Already a specialist in the treatment of eye and ear disorders, he was an ardent student of the connection between the nervous system and the overall health of the patient.
In 1884, he began the Dr. Miles Medical Company in partnership with two local businessmen. By 1890, his success in treating a number of "nervous" ailments had spread, and he struggled to keep up with the burgeoning demands of an expanded patient base. His solution was ahead of its time: mail order. He sat up the "Grand Dispensary," which allowed him to provide his medical services and products to a wide audience of eager patients.
His arsenal of weapons for the treatment of disease were those that he had developed and made in his own home office. These "home remedies" such as "The Restorative Nervine," and other formulas became the mainstay of his product line, and they, along with his equipment represented his equivalent investment in the business.