Michiana Takes to the Road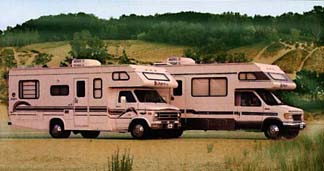 Even in the days of horse and buggies, Michiana people were in the forefront of the production of personal conveyences to haul their goods from place to place. Already a center of carriage manufacturing by the 1890's, the industry flourished through the 1920's. When automobiles came along, Michiana businessmen simply adapted the process to fit the new mode of travel.
From Wilbur Schult's historic visit to the 1933 Chicago World's Fair where he purchased a mobile home, then called a trailer, from a Detroit manufacturer as a lark, the industry has come a long way. It wasn't always an easy road, however. Mr. Schult had to built an industry from scratch. He sat up shop in an old carriage plant and the rest is history. From a slow start in the 1930's, the postwar housing shortage in the late 1940's powered an increased interest in the "house on wheels." Vactioners and retired travelers fueled the demand.
Once maligned as "trailers," the recreational vehicle industry made the difficult transition from the negative image of a lower-class transient living environment to acceptance as a "fun" vehicle designed as temporary living quarters for recreation, camping, travel or seasonal use. An RV may have its own motor power or be towed by another vehicle.
Driven by affordability, appeal to families, flexibility and convenience, RVers have flocked to the call of the road and the lure of the great outdoors. According to the Recreational Vehicle Industry Association (RVIA), the average RV traveler is 48 years old, owns his own home, has a comfortable income, has a family and loves the freedom an RV offers.
Over the past 60 odd years, the RV industry has spawned a multitude of major manufacturers, splinter industries, spin-offs, and suppliers. Most Michiana families have one or more members closely tied to the industry. Although the industry has had its ups and downs, it has supplied jobs for an overwhelming amount of Michiana residents and has attracted an influx of workers from other communities.
There are a million stories out there about working in the industry, and we'd like to hear yours. Tell us about the fun times, the rough times, and your perspective on building the vehicle that gave America the freedom of the road. We're just an E-mail away. Check back to this site to look for what our readers have told us.
Here are some manufacturers or suppliers of RV-related items. Help us add to the list. If you have an RV-related site URL that should be added, let us know. Coachmen RV, George Boy, Gulf Stream Coach, Newmar Corporation, Shadow Cruiser, Shasta, Starcraft, Viking,
This site has listings and links for many RV manufacturers and suppliers RV AMERICA