The Home Remedy Industry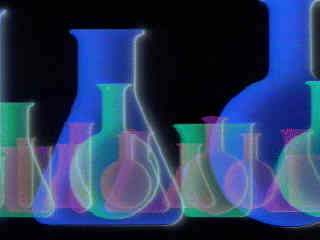 For well over a hundred years, the Michiana area has had help in "feeling better fast." From the home remedies and medicine show treatments of the past, an entire industry grew from the inquiring minds of long-ago physicians. From Dr. Franklin Miles who formed Miles Laboratories, Inc. in 1884 to Whitehall Laboratories (now American Home Products) who first build a plant in Elkhart in 1946, the pharmaceutical industry was of prime importance to the workers of Michiana in this century.
The employees wore white uniforms and had a fierce loyalty to the industry over the years, even as the number of jobs shrunk and the moving and closing of facilities began. Where once sons and daughters followed the tradition of joining their parents at the same workplace, now many of those jobs are gone.
Accra-Pak, who set up operations in the 1960's in the Michiana area, is a sub-contractor to many national pharmaceutical and beauty products manufacturers, has expanded its facilities over the past few years. The devastating fire of 1976 was remembered again in the summer of 1997, when another fatal accident and explosion occurred at the facility.
A sense of shared history links those who worked in this industry, and a feeling of family-like ties still exist even among those who no longer do. A desire to remain in touch is strong, and plenty of "remember?" stories are still swapped at chance or planned meetings.
We invite you to share those stories with us. Tell us about the line workers and secretaries, the mechanics and the lab workers who helped to produce the products that became household names all over the world. Help write history; we're just an E-mail away. And check back to this site again, to look for what other readers share. We're just an E-mail away.
We've listed the top three pharmaceutical manufacturers that are important to Michiana history. This page is a work in progress, so tell us what you remember about a particular company so we can include your information. And if we've forgotten to list one, let us know and we'll add it.